Board of Directors
The Litchfield Hills Rowing Club Board of Directors consists of at least seven but not more than fifteen Directors. No Director receives any compensation for their services of the LHRC.
Gail Zaharek, President & Chairman
Gail learned to row at Ithaca College as a walk on and spent four years on the team, earning a spot in the varsity boat her sophomore - senior years. She capped off her senior year by rowing in the inaugural Women's NCAA championship.
Gail continued to row competitively after college when she learned to scull under Guenter Beutter in GMS' competitive sculling program and attended a development rowing camp in Munich, Germany.
Gail has rowed with multiple clubs in the Connecticut area and has experience racing in sweep and sculling events, earning medals at races such as Collegiate National Championships, Head of the Charles Regatta, USRowing Club Nationals, USRowing Masters Nationals and more. Gail currently races with LHRC's masters competitive program as well as the Chinook Performance Racing team.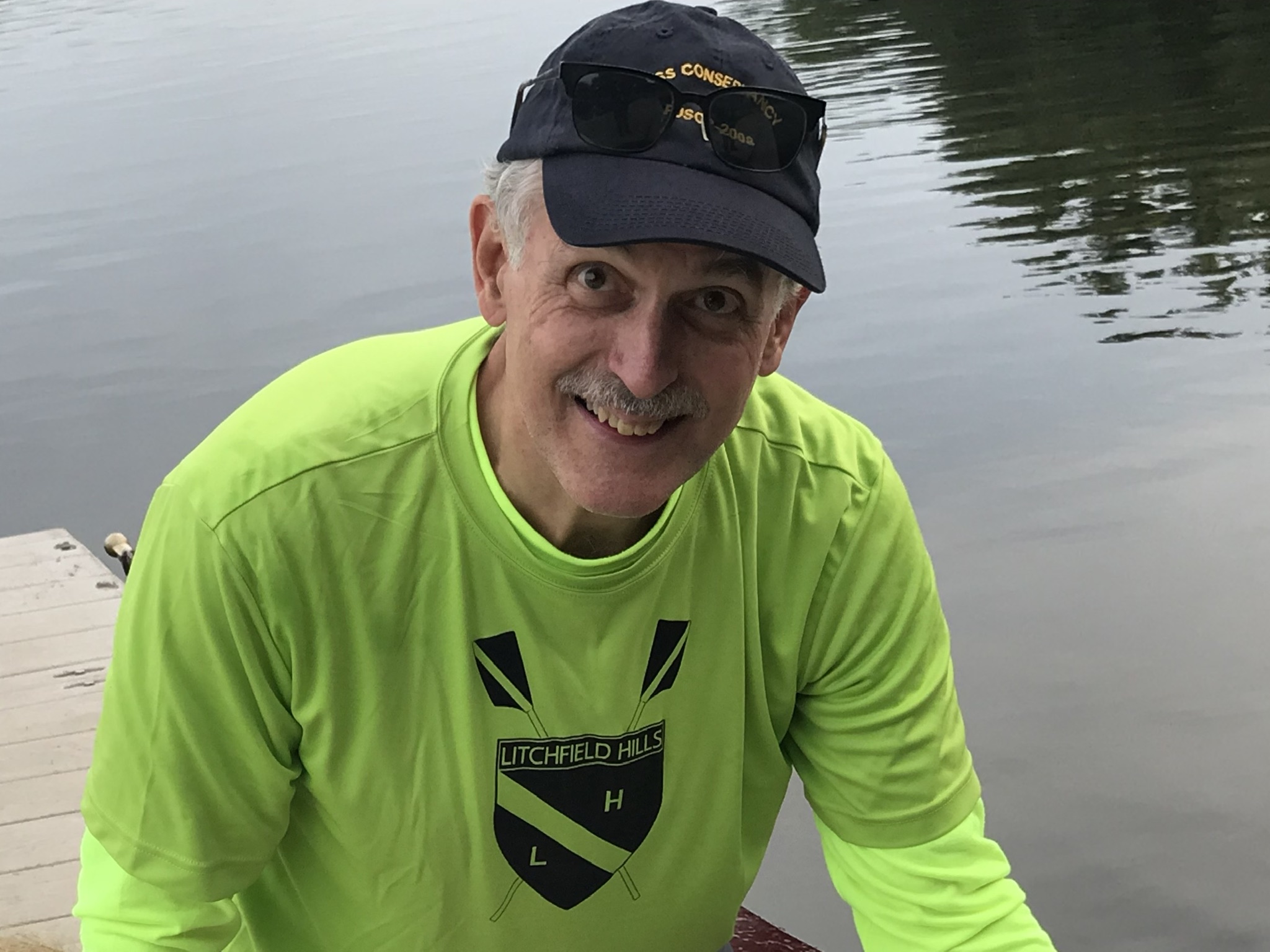 Steve Seward, Vice President
Steve came to rowing late – two years ago via LHRC's Learn to Row Program – and the sport has grown on him ever since. After kayaking Litchfield County's lakes and rivers for many years, Steve decided to seek a new challenge. "I was also getting tired of watching all those sculls passing me by. So I decided, if you can't beat 'em, join 'em!"
"At LHRC, I found good people, a great workout and the challenge of learning a brand new skill. I'm also hoping to be proof you can do this sport forever." Steve's first competitive experience was the Club's head-to-head competition in Summer 2019 with the Great River Rowing Club.
Off the water, Steve coaches nonprofit organizations in fundraising. Following a long career in nonprofit management and consulting, Steve also now serves on the board of the Connecticut Community Foundation.
My rowing journey began several years ago when we moved here to the beautiful northwest hills. My children were grown; they had moved out of the house, we did not know very many people here. My neighbor suggested that I join the rowing club as a means to meet people. I did meet new people after I joined but for me the club became so much more. I met friends, great friends. I met high energy people who love to be outside, who love to be on the water and who are not afraid to get up at 5am to do so. I met people who are kind, welcoming, encouraging and thoughtful. The LHRC is more than a club. It is a family.
Nicole Holly Stone, Treasurer
Nicole's rowing journey began in Spring of 2011 as a rowing parent when her son, Drew, discovered the sport in high school. Nicole and her husband, Jeff, became team parents a year later. They managed the food trailer for seven consecutive seasons. In 2015, Nicole moved on from team parent, to athlete. She did her learn to row in late summer of 2015. Earlier that same year, she became the bookkeeper for the club, putting her organizational skills to work.
As a master athlete, Nicole has competed in many regattas over the last 4 years including, Head of the Charles, the Independence Day Regatta and US Rowing Masters Regionals & Nationals Championships. "I'm not a morning person at all, so getting up at 4:45am to make a 5:30am practice is still a challenge for me. But when something clicks, you improve and perform well, not only as an individual, but also as a team at these large regattas, it's worth it. Just don't talk to me until practice is over".
Nicole fell in love with not only the challenge and competitiveness of the sport, but also the camaraderie of the other athletes and parents. That love continues to this day. "LHRC gets into the very core of your being. It becomes a part of you and without it, you would feel like something was missing."
Mary became a member of the club in July of 2014, and a Board member since January of 2018. After years of watching and supporting her children row for various teams, and eventually college, she decided it was her turn to get on the water and she immediately became hooked. It's hard to beat an early morning row with bald eagles soaring overhead!
"It has been an amazing experience racing with the masters crew. Our Women's 8+ performed exceptionally well at the Head of the Charles last year. We hope to do even better this coming fall!"
As well as the Head of the Charles, Mary has also competed at Head of the Riverfront, Head of the Housatonic, Head of the Fish, Sweeps and Sculls, USRowing Masters Regionals and Nationals Championships regattas.
When not on the water, or spending time with the LHRC community, Mary works as a nurse at The Gunnery.
Betsy Renwick, Head of the PA
I started rowing in 2017, and ever since I've enjoyed the challenge of finding one, maybe a few, perfect strokes (a "forever" task). Trail running has been my love for many years but a temporary injury led me to rowing, and now they'll be on my to-do adventure list long into the future. I spent several decades in IT and recently retired from IBM, I'm grateful for the flexibility it's afforded me. I hit the jackpot in finding LHRC: The atmosphere is friendly and supportive, the competitive program constantly pushes me, and early morning rows on beautiful Bantam Lake is a gift that keeps on giving. I joined the LHRC Board to give back to an organization I feel strongly about, as I've done in the past as Board President of a local Land Trust, Volunteer Coordinator for an LGBTQ youth group, and other activities important to me through the years. I'm fortunate to be part of the LHRC community.
Stephen Warshaw is a presence marketing advisor to leading brands, helping them determine how best to expand their businesses, grow their brands and increase market share—all through both traditional and non-traditional forms of promotion.
His clients include the Aetna (Hartford, CT); HomeServe (Walsall, England) and Hospital for Special Surgery (New York, NY).
Stephen resides in Warren, CT with his wife, Cynthia, son Anderson and daughter Hannah (and a dog, chickens and horses).
His son, Anderson, has rowed with Litchfield Hills Rowing for over 4 years, and in 2018 garnered two bronze medals at the US Rowing Nationals competition in Camden, NJ.
Joe Scirica, Ex Officio Member
Joe has been on the Board since 2006. He served as Club President from 2013-2015 after being Board Secretary from 2008-2013. In the spring, circa 2003, Joe spent a long weekend with his wife and daughters in Cambridge, MA overlooking the Charles River. They lingered too long overlooking the rowing teams and were hooked. So, when Emily joined LHRC in spring of 2006 and they needed parent participation, Joe found himself on the Board. That summer, he too, began learn-to-row and hasn't stopped (learning). His first regatta was that same fall despite swearing he never, ever, was going to try that. Joe recently has taken up sculling as well. When he isn't rowing, Joe's day job is as a local Gastroenterologist and partner in CTGI.
Edgar Auchincloss, Member
Edgar started rowing in school when he was fourteen, rowing throughout high school and was the Captain of his team for two years. Edgar then became a founding member of the crew program at the University of Connecticut. The club prospered well after his graduation and today has a proper boathouse on Coventry Lake, with D1 status for the women's team, while it remains a club sport for men.
Edgar became involved with the LHRC when his son joined the crew team at Litchfield High School. He has enjoyed working with his fellow board members to establish a program with deep connections in Northwestern Connecticut.